International Conference on Art Practice      【ICAP Tokyo 2016】
Index for Diversity:
Ethnography-based Art Practice in Asia-Pacific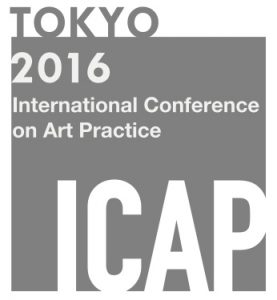 2 Days International Conference 
"Research-based Arts Management" (geidaiRAM) program, hosted by the Graduate School of Film and New Media at Tokyo University of the Arts, is going to hold the 2-days international conference "ICAP" (International Conference on Art Practice) this winter. For this event, young and mid-career artists and researchers will get together. On the first day will be presentation-based sessions. On the second day, we will have 4 presentations and a symposium. In the conference we will discuss how the new tendency of art practices in Asia Pacific is reflecting on the place, history and society by its diverse method.    
【ICAP Tokyo 2016】
【DATE】Dec, 10 (SAT) 11(SUN)  14:00-18:00
【VENUE】Lecture Room1, Department of Fine Arts, Ueno Campus, Tokyo University of the Arts
【Reservation】http://bit.ly/2fSvOnO
Capacity of 150 / Reservation required / Free admission
Language: Japanese (Consecutive interpretation)
+ Program
Dec 10(SAT)<DAY1: ARTIST SESSION>
14:00 – 14:15  opening speech  Eishi Katsura
【Artists & Commentators】
14:15 – 15:30  OLTA × Liu Lushan
15:30 – 16:45  Woomin Hyun × Hsu Fang Tze
16:45 – 18:00  Hsu Chia Wei × Tatsuki Hayashi
Dec 11(SUN)<DAY2: SYMPOSIUM>
【Presentations】
14:00 – 14:30  Eckersall Peter Alexander
14:30 – 15:00  Gong Jow Jiun
15:15 – 15:45  James Oliver
15:45 – 16:15  Akira Takayama
【Symposium】
16:30 – 18:00  DAY2 Members + Eishi Katsura, Tatsuki Hayashi